The 'likeability' and not being 'difficult' trap
For women, there's an inverse relationship between success and likeability. The fate of figures such as Hillary Clinton prove that the more ambition a woman exercises, the less palatable she may be perceived to be. In The Leadership, brilliant female scientists reveal the hostility they've encountered during field work, often undertaken in remote, high-pressure locations. Science communicator Fern Hames recalls working in an environment with 28 men and being told "we don't have women scientists". She also reveals that although a male colleague once left shotgun holes in her field hut, she didn't want to be seen as 'difficult' by reporting it: "I didn't want to make waves, it was my first proper job." It's an extreme example that illustrates how women who are successes in their fields can be vilified for simply turning up and doing their jobs.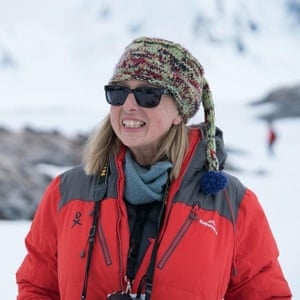 "I grew up in a family where it was a given that girls can do anything, then suddenly it was 'no, actually you can't'. It was an enormous disappointment" – Fern Hames.

Photograph: Pieter de Vries / Bunya Productions.
The scourge of imposter syndrome
Imposter syndrome is a deep-rooted belief that one's achievements are fraudulent, rather than merit-based. Men cite their own research 70% more than women, a phenomenon that adversely affects female scientists at the top of the field. The Leadership introduces us to Dr Sarah Charnaud, a molecular biologist who was drawn to science in childhood after a friend died from HIV. She suffers from an acute lack of confidence despite her obvious talent. But, at the end, Sarah's boost in confidence in her own abilities is proof that imposter syndrome can be overcome, and she achieves a promotion and pay rise.
The power of male mythology
Isaac Newton. Charles Darwin. The figure of the scientist as a lone, male genius endures in our imagination. Unfortunately, this mythology is part of a complex set of factors that contributes to an absence of female leaders in STEMM. However, as Hames points out, the adage "you can't be what you can't see" equally applies to the importance of male leaders who are inclusive and willing to champion their female colleagues, even if that means giving up opportunities themselves.
The mother load
March 2019 research found that 43% of women leave full-time STEMM careers after having their first child. The Leadership links the reality of this "leaky pipeline" to a sector that still promotes a "publish or perish" mentality and an unbroken career trajectory as the metrics of success. This doesn't consider the reality of ambitious female scientists who leave the workforce to have children – such as Dr Samantha Grover, a Melbourne soil scientist who took maternity leave twice only to find that the jobs for which she had worked so hard had ended.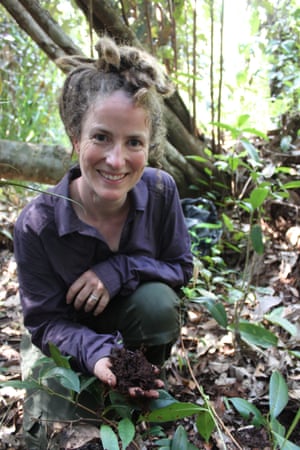 "Both times I took maternity leave as a post doc, those two jobs ended and I was quite devastated… I've given science a really good go but if science doesn't want me, maybe that's it" – Dr Samantha Grover.

Photograph: Melissa MacLean / Bunya Productions.
The persistence of whiteness
The women of the first Homeward Bound are largely from Western cultural backgrounds. But in The Leadership, Songqiao Yao, an Oxford-educated environmentalist, shows us that those from non-white backgrounds are marginalised twice. Part of the issue, for Yao, is that the sector still revolves around Western styles of leadership that prioritise the individual rather than the collective. The notion, rooted in the Enlightenment, that equates objectivity with white men, means non-white female scientists must work even harder to gain respect.
High rates of sexual harassment and assault
In the #MeToo era, our culture is newly wise to the endemic nature of sexual harassment in the workplace. It may have started in Hollywood but it extends to science laboratories and beyond. In The Leadership, Lauren Sandon, an environmental scientist from Perth, reflects on the trauma she encountered on an isolated field site after her drink was spiked by a trusted male colleague. The documentary takes an unflinching look at the ways in which incidents of harassment and assault affect female scientists' wellbeing – and careers – in the long term. The film brings into focus just how far we have to go to balance the gender equation when even in the most well-intentioned environments women can be affected by the pervasiveness of sexual harassment.
The reign of gendered assumptions
Scientists have long been perceived as rational and analytical, led by their intellect. Similarly, the male body has been historically used as the default for scientific research. Assoc Prof Meredith Nash reveals in The Leadership how male bodies and perspectives are the basis for insights that involve everything from the crash test dummies used to make cars safe to the symptoms of heart attacks and the consequences of drugs. This lack of gender diversity in research has serious implications. A 2019 study from the University of Virginia found that women are 73% more likely to be seriously injured in a car crash, and according to 2018 research from the University of Ottawa Heart Institute, women are more likely to die of heart failure than men.
A narrow view of leadership
The Covid-19 pandemic has revealed the ways in which female leaders exercise both sensitivity and strength. The Leadership features candid moments with senior male figures in the STEMM industry that reveal how the persistence of ego has shaped perceptions of what a leader should be. But by following Homeward Bound CEO and co-founder Fabian Dattner's journey as a leader, the documentary also shows that good leaders should be ambitious and empathetic – and empowers the participants to make peace with their own contradictions along the way.
The Leadership proves that gender bias isn't just a women's problem. A 2020 study by the Westminster Foundation for Democracy and the Global Institute for Women's Leadership at King's College London shows that when women are able to exercise political leadership, there are gains not just for women and girls but for the whole of society.
Grappling with these complicated issues sparks a vital conversation that resonates in STEMM and beyond.
The Leadership releases nationally in cinemas from October 1. Don't miss this compelling and thought-provoking film and join the conversation at special event screenings with Q&As and a panel of experts, themed around Women in STEMM, gender equality and leadership. https://theleadershipfilm.org/watch/