A fireball was spotted in the night sky above north-eastern Mexico on Tuesday, as Hurricane Delta made landfall in the Yucatán Peninsula and several minor earthquakes struck the country.
The fireball was most visible above the states of Nuevo León, Coahuila and Tamaulipas, which border the U.S., around 10:14 p.m. local time, according to the Global Atmospheric Monitoring Agency—part of Mexico's Institute of Geological and Atmospheric Research.
Some amazed eyewitnesses—as well as some security cameras, webcams and doorbell camss—managed to capture footage of the fireball as it blazed through the atmosphere.
Cameras in Monterrey—the state capital of Nuevo León—captured images of the fireball briefly illuminating the night sky above the city.
Fireballs are unusually bright meteors—the streaks of light that appear in the sky when small pieces of asteroids or comets enter the Earth's atmosphere and burn up. If these objects avoid completely disintegrating and manage to reach the ground they are known as meteorites.
Local reports suggest that the meteorite fell near Ciudad Victoria, the capital of the state of Tamaulipas. Mexican news outlet Milenio reported that the meteorite set fire to bushes in the area where it fell, with local firefighter teams responding to the incident.
The fall of the meteorite came as Hurricane Delta made landfall in Mexico's Yucatán Peninsula, bringing winds of around 110 miles per hour.
The Category 2 hurricane struck the coast in between the popular tourist resorts of Cancún and Playa del Carmen, accordion to the U.S. National Hurricane Center (NHC.)
The NHC has said that Delta will bring a "life-threatening storm surge" and "dangerous winds" to parts of the northern Yucatán into early Wednesday morning. This could lead to significant flash flooding that will affect the northern part of the peninsula through early Thursday.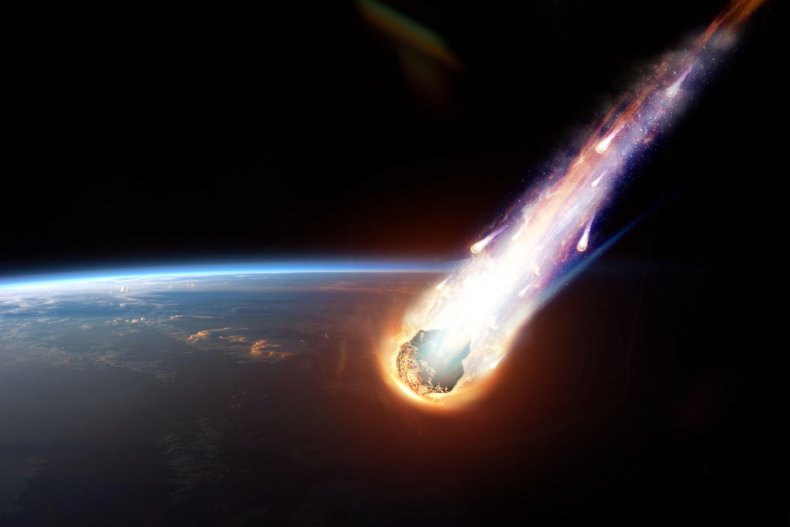 After passing the Yucatán, Delta is predicted to move northwards toward the U.S. Gulf Coast as it grows in size, "where there is an increasing likelihood of life-threatening storm surge and dangerous hurricane-force winds beginning Friday, particularly for portions of the Louisiana coast," the NHC said.
In addition to these natural phenomena, Mexico was also struck by several earthquakes on Wednesday, with 14 measuring 4.0 or more in magnitude on the Richter scale. The most powerful of these, which struck in the southern state of Oaxaca, had a magnitude of 4.3, which is classified as a "light" earthquake. These are often felt but only cause minor damage.
Mexico is one of the most seismically active countries in the world, located at the meeting point of three large tectonic plates—vast chunks of the Earth's crust. The movement of these plates leads to earthquakes and volcanic activity.
In fact, in the past three months Mexico has experienced an average of just over 30 earthquakes above magnitude 1.0 every day, according to Volcano Discovery.